Customised Maps UK
A customer focused team we design personalised maps UK wide especially for you; from customised maps UK gifts to personalised framed maps and canvas prints, we offer something for all map lovers and can turn your idea into reality.
Cosmographics design maps for you to treasure, use as a fun, educational activity in schools or at home, or as a unique gift. Add your information to a map of choice, make it unique and personal to you, your friend or partner.
Our popular ready to purchase personalised framed maps are at a set size, but you can always buy your own frame and we will size our products to fit or we can buy a frame in for you. We can create and personalise the map to tell your story; memories of your travels, or camping holidays or a special occasion. Check out our new Adventures in the Alps range of skiing gift maps using 2theAlps fantastic maps as a backdrop. Wish good luck to family or friends in their new home or as they start University. They also make lovely graduation presents or a gift to celebrate an achievement. Our customised maps UK also make a unique wedding present. You can build a set of maps showing where you/they first met, the wedding location, honeymoon and your home destination. Send in your details on our contact form or call us to discuss your idea.
We can personalise any of our wallmaps as a unique map gift. We can plot and add your own information. Include a personal title, photographs, your school, where you were married or first met etc. View a selection of personalised maps including childrens illustrated maps and retro wall maps.
Our range of colouring maps are both fun and educational. Maps of the world, UK and British Isles counties and American States, Europe, Africa and Asia can be printed at different sizes and personalised.  We also sell laminated versions so you can use stickers (Free pack included) Colour your own map or send as a unique map gift.
The map print size and paper type can be chosen and your personal touch added within the buying process. We can personalise any of our maps so please contact us to discuss your particular map of interest and requirement if the option is not available in our shop area or if you wish for more information.
Enquiry Form
If you have any enquiries or would like further information about us, then please complete and send the form below. * Required information
---
HOME DECOR MAPS
We have designed a range of map art wall maps that would grace any study, office or living room. Our decorative wall maps include artistic map designs, retro maps and other world and UK maps in a choice of colours to suit your home or office interior design. We print our maps as on gloss, matt paper or on canvas and can supply as framed canvas prints.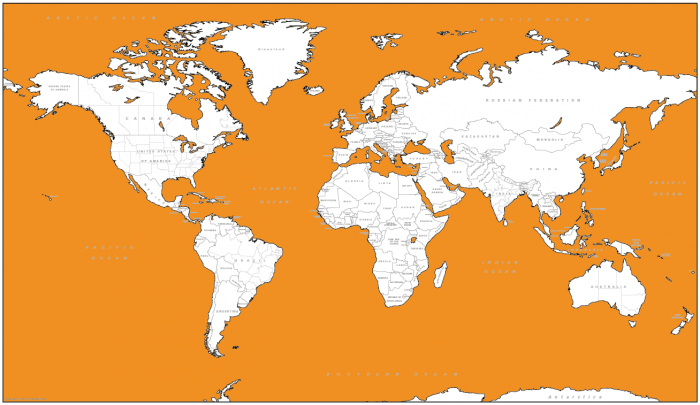 ---
---
MAP PRINT SIZE
We are not limited to the size of prints used in our on-line shop, we can change to suit your space or requirement as all maps are printed on demand. Our in-house printing facilities can provide prints to just over 1 metre wide, but to any length you require. Much larger prints can be supplied and on many different materials. Please  Contact us for more details on Customised maps UK.
---
Paper and Finishes available
We print on many different materials, so if you are looking for maps to write on, stick pins into, use in the playground or have as flooring we can help there too. Media types include laminated and mounted prints, canvas (framed and rolled) and self adhesive canvas. Encapsulated prints can be arranged too.
The paper we use in house is matt uncoated paper 180gsm, Satin Photo paper 260gsm, we also print on white canvas and peel and stick-self-adhesive textile.
Specialised prints and different finishes can be provided and those we have supplied include:
Encapsulated in film (5 thou matt or gloss) for added protection.
Sealed and mounted on foamex (5mm)
Framed Canvas prints
Printed directly on to foamboard (3mm)
Printed directly on to perspex (6mm)
Printed on Dibond (3mm)
Printed on a clear vinyl
Framed (aluminium)
Free delivery in the UK when you spend £50 or more – use the code COSFREE
If you have another material or finish in mind please contact us.
There is no limit on the number of prints you can order.
Take a look at all the maps available in our BUY MAPS section; there are maps as gifts, for the home, boardroom, office and school, catering for all age groups. If you cannot find the map or print option you want please contact us and we will try to help.
Some of our customers comments:
I just wanted to say thank you, the map arrived on Tuesday, and it's perfect. Thanks for your help and for such a speedy delivery.
Jessica
What a great idea for a house-moving present! Very professionally done and a truly personal gift.
Julie
We got fabulous personal communication from Alan who was realy helpful in getting us the product I was looking for. The personalised map is perfect and delivered quickly and arrived in excellent condition. I am very happy to do business again and would recommend Cosmographics to anyone.
Sarah
The map arrived this morning and I am so happy with it, I can't thank you enough 🙂
Heather
Just wanted to say the maps arrived today and they look brilliant. I can't wait to start using them so thank you again.
Emma
Just wanted to say many thanks for the great maps. Here is a picture of the finished product. Thank you for the great customer service.
Annaliese